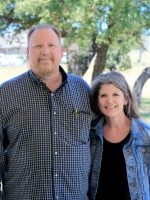 My wife Christina and I have been living in this area for 25 years and have been members of the Crestview family for 7 years. At Crestview I was the deacon of building and grounds for several years and was recently elected to the position of Elder. We are a homeschooling family who have enjoyed having our kids at home full-time for 14 years. We have owned and operated a successful automotive business for the last 19 years. We have 6 children, 4 still at home and 2 who are grown but still live in the area. Christina and I are Nana and Poppa to 3 beautiful boys.
I was baptized at a young age at Trinity Lutheran Church in Copperas Cove. Through the years of church service, I have been a Sunday School teacher, Children's Church leader, VBS volunteer, and deacon of building and grounds.
Away from church, my family volunteers as fire fighters for Oakalla VFD where I am the assistant chief, Christiana serves as secretary, and my son, Colton, is also an active fire fighter. Colton and I are also part of a fishing ministry that helps injured military warriors and their families as they transition into civilian life.
On our off-time, we enjoy traveling, camping, and fishing as a family.